Laurent Arditi, Stéphane Ducasse
larditi@bigfoot.com stephane.ducasse@inria.fr
We are sure that you did not forget these pictures: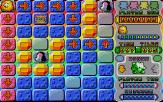 Skweek received the famous French awards "Tilt d'Or" and Gen'4 d'or.
Here is a small review of SSkweek
Skweek on YouTube and follow a full game video with some... well.. special mode: Amazing full 2 hours Skweek version.
Original releases
Skweek and Super-Skweek were published in Europe, US and Japan on several platforms: Atari Lynx, Atari ST, Amiga, PC, Amstrad CPC, Sega GameGear and NEC.
Box covers:
Super Skweek (world) Skweek (Japan) Super Skweek (Europe)
Atari Lynx game NEC PC Engine Amiga
Screenshots: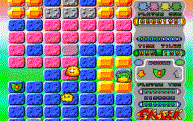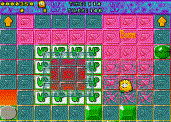 Skweek on Atari ST Super Skweek on Amiga
Super Skweek on Atari Lynx
Laurent Arditi, Stéphane Ducasse.